Freda Bedi
Freda Bedi (Sister Palmo)
"As my experience with the Tibetan Buddhist world grew, I heard something about Freda that surprised me. Among the Tibetans it was whispered that Freda was regarded as an emanation of Tara, the female Buddha of Compassion in Action. Tara, (beloved of all Tibetans, religious or not) was hailed as the Divine Mother, to whom they all prayed when in need. It was Tara, rather than the historical male Shakyamuni Buddha, whom they called upon whenever they were in danger, sad, frightened, or sick, because they knew Tara did not merely sit and listen compassionately to their please; she got up and DID something. This ability to act and act quickly was regarded as a quintessential female quality.
Over the years I had seen plenty of paintings and staues of Tara. She certainly looked nothing like a fair-skinned, blue-eyed Englishwoman. Usually she was painted green (although sometimes white and other colors), with a round moon-shaped face, a benign expression, and one leg stretched out ready to spring into action. … Why and how had she earned this accolad? Freda, apparently, had appeared in the darkest time of Tibet's history, when the Dalai Lama and thousands of his fellow countrymen, women, and children had fled over the Himalayas in a terrifying trek to freedom. They had poured into exile, sick and traumatized by the persecution and torture they had experienced and by there dangerous escape. Freda had been there to comfort them, bathe their wounds, soothe their fears, and help put them back on their feet."
~ Vicki MacKenzie, from the introduction to The Revolutionary Life of Freda Bedi
"Freda is an inspirational woman, a role model for women everywhere. We need real-life examples of powerful women, especially nuns. Freda's life was enourmous. She was pioneer in so many fields."
~ Jetsunma Tenzin Palmo
"What she had to say had a lucidity and simplicity about it. I can't accept any teachings if there is a false note – if it is not coming from a person's wholeness and integrity, if what they are saying merely comes from what has been heard or read. With Freda I was able to drink it in. It was coming from beyond.
I don't know how realized she was. I didn't go into those areas. She told me something about her mystical experience in Burma. She said she came out onto the street and saw everything in the world lit up as though from within. She did not go into a featureless expanse – but the ordinary world was transformed for her.
She also taught me from her actions. I never heard her say a mean thing to anyone. She was 'always' thinking of others, writing to people 'all' the time [quoted words italicized in book for emphasis], trying to get others what they needed. And it was done with such affection. She constantly had a folder in her lap, and whenever she had a minute, she'd write a note to someone.
Mummy [as Freda Bedi was affectionately known to all] was wonderful for me to a very high degree. First of all, she was important because she was a woman. I am grateful to someone who understood the teachings and practice, and that it was a woman in a tradition that is quite male dominated. This was not by choice – it was sheer good luck. i was not consciously being a feminist, but I knew and I trusted her. She had a love of the Dharma and used it in a bold, brave way. When I first approached her for teachings, she replied, 'Yes of course, my dear. I will be delighted. That is just the thing.' I sensed she had just been waiting for me to ask."
~ Joanna Macy, renowned writer, Engaged Buddhist and environmentalist, on her experiences with Freda in India in the early '60s
On Freda's recognized reincarnation, Jamyang Drolma…
Freda Bedi & Jetsunma Jamyang Drolma
On The Revolutionary Life of Freda Bedi…
The Yogini In Books
Freda pictured with Tibetan refugees, (circa 1959). She nurtured and saved countless lives in the refugee camps during the first exodus from Tibet.
Freda with young tulkus (Akong Rinpoche to right) at the Young Lamas Home she founded in Dalhousie, India (circa early 1960s)
Judith Simmer-Brown
Judith Simmer-Brown
Acharya Judith Simmer-Brown, PhD, is a professor of Buddhist studies at Naropa University in Boulder, Colorado, where she has taught since 1978. She began her practice with Zen master Shunryu Suzuki Roshi in 1971, and then took the Vidyadhara, Chögyam Trungpa Rinpoche, as her root teacher in 1974.  She continues to study with Sakyong Mipham Rinpoche of the Shambhala Buddhist lineage and serves as the dean of the Teachers' Academy for Shambhala International. She travels and teaches widely in North America, Europe, and Asia on meditation practice, Buddhist philosophy, tantric Buddhism, inter-religious dialogue, and contemplative education. She has also published widely in books, journals, and periodicals on these topics.
Judith's special passion has long been the Vidyadhara's teachings on "feminine principle," which led her to research and write Dakini's Warm Breath: The Feminine Principle in Tibetan Buddhism, published in 2001.
On '
Dakini's Warm Breath

': Reflections

"Simmer-Brown has written what is destined to be a classic among Vajrayana practitioners, Buddhists of other schools, and readers interested in Buddhism."

~

Shambhala Sun

"A book-length discussion of dakinis, who are one of the most elusive aspects of Tibetan Vajrayana Buddhism, is a welcome edition to the growing literature on symbols of the feminine in Buddhism. Simmer-Brown skillfully interweaves traditional stories with commentaries by contemporary Buddhist teachers to provide the most complete discussion of this topic to date."

~ Rita Gross

'Raised a minister's daughter in Nebraska,

Judith Simmer-Brown

began meditation practice as a student of Suzuki Roshi. It was while teaching religion and Buddhism at Western Washington University in Bellingham that Judith received a flyer inaugurating The Naropa Institute. Meeting the Vidyadhara at that first summer session in 1974 "blew her world apart," and Judith fled back to Bellingham, "not sure whether to hide or pack." But when offered a position in the new Buddhist Studies M.A. program at The Naropa Institute in 1977, Judith accepted one-week's notice to join the tiny faculty. She never left.

During her early years of teaching at Naropa, Judith worked with the Vidyadhara on various projects. He always encouraged her to trust her own experience, to teach, and to "not care so much what other people think." Judith taught at Seminaries, served on the founding faculty of the Ngedon School, directed a series of Buddhist-Christian conferences, and influenced Naropa Institute through its early, difficult years. Judith continues to teach at what is now Naropa University, chairing the religious studies department; guides the Ngedon School; and serves on several international Buddhist-Christian dialogue groups. Judith founded Naropa's Engaged Buddhism program, and has been a member of the Board of Directors of Shambhala International since 1995.

In 1980 Judith married Richard Brown, chair of the education department at Naropa. They have two children, Owen and Alicia'

Source: Shambhala.org
Ani Choying Drolma
Ani Choying Drolma
Ani Choying: The Dreamer
"Ani Choying Drolma was barely 13 when I first knew her. Irrepressibly bright-eyed and intelligent, she spent as much time as she could working on her English with Tulku Urgyen Rinpoche's foreign disciples–the "Injis"–at Nagi Gonpa. We called her "ani chewing gum" affectionately. How did this bright and lively young nun who loved to sing and dance become such a force for good in the world, spreading blessings and joy with her voice and her songs, all the while working tirelessly for the education not only of the nuns at her own Arya Tara School, but also for other poor children?
As Ani herself will tell you again and again it is all due to the great power and blessing of our tsawe'i lama, our root guru, the late master Tulku Urgyen Rinpoche. I met Rinpoche when I was 28 and he absolutely changed my life; Ani met him when she was 10, and he completely shaped hers. Rinpoche inspired his students to be the best people they could, and to do all in their power to work for the
benefit of others. He did this by accepting us completely, thereby enabling us to accept ourselves, to find our strengths and use them.
My first connection with the Nun's Welfare Foundation and the Arya Tara School came when both were mere dreams of Ani's. I say "mere" with some hesitation because Ani's dreams and goals appear to have a life of their own–but only because of the energy and faith she brings to all of her work. She called me one evening and asked whether she could come over right away because she needed to
write a proposal. It had to be delivered that same night to an American consular officer who was going to present it to someone the next day. Even now it doesn't sound possible, but somehow we did it. Ani described to me her dream and I managed to convert it into a plausible project proposal in a couple of hours: her ideas, back then my words.
Did I think this dream of hers would get anywhere?
Frankly, I didn't, but I loved Ani Choying and had watched her grow up into a remarkable young woman, and so it never even occurred to me to say no. As it turns out that proposal didn't make much of an impression, or at least not a big enough one, on whoever it was written for, but as we can now see it was simply the beginning of something much larger than I had ever thought possible. Visiting the school last week for the first time in a couple of years, I was astonished. Not simply at the size and beauty of the buildings, but because of the details: the 50+ nuns of all ages and sizes in their school uniforms of nun's robes and knitted caps, the clean and orderly classrooms, the well-equipped computer lab and, as a final delightful surprise, the thanka painting school. Ani tells me she is still dreaming–of ani thanka painters, ani khenpos and anis who return to their home villages to educate the people there, teaching them about hygiene and good health and telling them to send their girls to school.
Ani no longer needs my help with her words; her eloquence and natural intelligence never cease to amaze me. Many years ago, we attended some talks on women's empowerment at the regional UNICEF office. There were lots of words she didn't understand, which she wrote down and asked me about later, but she grasped the concepts intuitively, and grasped as well how to give such talks herself. Not long after that she was invited to a conference at Harvard University, and at that time, it was my husband who helped with her presentation. He made her write it herself, ignoring all protestations that she couldn't, and then helped get the final product ready.
The remarkable thing about Ani Choying is that she is still learning, still striving to do better, to be more, to expand the range of her work and her experience. Now that the Arya Tara School has been built, complete with fields for growing organic vegetables, she is working on building a kidney hospital, and has dreams for a retreat center. And we know about Ani's dreams: she won't stop until they all come true."
~ By Judith Amtzis 
Source:  www.choying.com/about-ani-choying/ani-the-dreamer
Read The Yogini Project's Interview with Ani Choying Drolma, April 2012
Sangye Khandro
Sangye Khandro
Sangye Khandro has translated and mastered some of the most profound Buddhist teachings. In her late fifties, she is strikingly beautiful by any definition, but you will likely first notice her vibrant, spacious blue eyes. Many times I have heard her translate some of the most complex topics from the Tibetan language with a seemingly effortless grace. One of her renowned translator colleagues says she might be the Western woman who has received more teachings and transmissions than anybody else. She lives on the beautiful 100 acres of Tashi Chöling, a retreat and teaching center in the mountains near Ashland that she founded together with her husband and teacher, Gyatrul Rinpoche. She has translated for the finest Tibetan teachers, including Dudjom Rinpoche, Thinley Norbu Rinpoche, Penor Rinpoche, and Khenpo Namdrol Rinpoche. Despite receiving many invitations, she rarely agrees to teach, preferring a reclusive lifestyle focusing on translations and retreats. Together with her partner, Lama Chönam, she has founded the translation committee Light of Berotsana. Among her many published translations is the biography of Mandarava, the Indian consort of Padmasambhava who is credited with establishing Vajrayana Buddhism in Tibet.
Source: www.dakinipower.com/sangye-khandro
Image: David Gordon.
Karma Lekshe Tsomo
Karma Lekshe Tsomo
Patricia Zenn already had a religion when she grew up in Malibu: surfing. But as she was constantly teased by her classmates about her family name ("Are you Buddhist or what?"), curiosity led her to borrow a book about Buddhism when she was only 11 years old. To her surprise, she instantly realized "this was it!"
Fast forward to 1977, when she was in her early 30s, the Sixteenth Gyalwa Karmapa ordained her in the Tibetan Buddhist tradition and gave her the Tibetan name Karma Lekshe Tsomo. Very fittingly, "Lekshe" means "eloquent." Venerable Lekshe quickly realized that conditions for Buddhist nuns were dire. She single-handedly started a movement to give Himalayan nuns access to education. At the time, more than 30 years ago, this idea was, at best, treated as a waste of time, or even discouraged by the established monasteries.
"They're telling the nuns, 'Oh, you're so humble, you're not interested in gaining prestige and power like these Westerners,'" Lekshe says with a calm voice but a quizzical look. "Well, I just wonder why they are not telling the monks that. If women are perpetually disadvantaged, this is what you end up with. Surveys show that the nuns' health is by far the worst of any group. Their educational standards are by far the worst too. There is a lot of work to be done, and awareness raising, especially among women."
Karma Lekshe Tsomo set out to develop a network of supporters, even at the risk of her own life and cost to her health. Along with her late teacher Freda Bedi and her friend Jetsunma Tenzin Palmo, she is among the earliest and fiercest advocates for the education of Tibetan nuns. Karma Lekshe Tsomo is the president of Sakyadhita ("Daughters of the Buddha"), the most important international association of Buddhist women, and of Jamyang Foundation, a non-profit dedicated to the education of Himalayan women.
I am often surprised how few Buddhist women know about Sakyadhita, and this is why I write about it here. This week several thousand Buddhist women (and a few men) gather for the Sakyadhita conference in Vaishali, an ancient city in North India that the Buddha visited on many occasions. Every time Sakyadhita chooses a different country, but at every conference they discuss meaningful ways in which Buddhist women can advance their access to education and full ordination (which is not available to women in several Buddhist traditions despite the Buddha's initiative to ordain women). The Sakyadhita conferences have generated a worldwide Buddhist women's movement. "Cultivating confidence," "Buddhism at the Grassroots," "Women Changing Buddhism" and "Women's Stories" from India and all over the world are part of the topics presented at this year's conference. Noted speakers this year include Venerable Jetsunma Tenzin Palmo, whose life story has been told in Vicki Mackenzie's bestselling "Cave in the Snow," and Rita M. Gross, the author of "Buddhism After Patriarchy."
What is the main obstacle? "Sexism," Lekshe candidly sums it up. She is not afraid to use the F-word. "Feminism," she says, delivering the punch line with a coy smile, "has been called the radical theory that women are completely human." The gender imbalance affects Buddhist women worldwide. "We are talking about more than 300 million women dedicated to peace, honesty, loving-kindness and compassion. Certainly we would want to optimize the talents and potential of these wonderful women." In the West, more and more teachers recognize this potential, but "women have almost no voice in Asian Buddhist institutions. For women to move into positions of leadership, they need to be fully educated and trained."
Lekshe, a professor in Religious Studies at the University of San Diego, is confident that things will change: "Why shouldn't women have the same opportunities? More and more, I see it as a human rights issue."
Feature by Michaela Haas:  www.dakinipower.com/karmalekshetsomo/
Image: Venerable Karma Lekshe Tsomo by Gayle M. Landes.
Sarah Harding
Sarah Harding
Sarah Harding is a lama in the Shangpa Kagyu tradition of Tibetan Buddhism, having completed the first three-year retreat for westerners in 1980 under H.E. Kalu Rinpoche. She now works as a teacher, oral interpreter and translator. Some of her translations include The Life and Revelations of Pema Lingpa and Machik's Complete Explanation.
She has been an instructor at Naropa University since 1992 and continues to teach her Tibetan Language Correspondence Course. Sarah is currently working on translations as a fellow of the Tsadra Foundation. Her most recent book is on the life and teachings of Niguma which form an important part of the Shangpa Kagyu lineage.
A faculty member of Naropa University for over 20 years, she lives in Boulder, Colorado.
What follows is an interview by Jeff Cox of Snow Lion Publications at the time of the release of Sarah Harding's book "Niguma: Lady Of Illusion":
Q: I would like to know more about your interest in dharma, your training, and how it brought you to this point of translating the teachings of Niguma.
Sarah Harding: It is a long, old story. I was propelled out of the country when I was 19. I went to Europe and then to more exotic places until I ended up in India and Nepal. During my travels in Nepal, I became aware of lamas giving teachings. Because I had already encountered Buddhism at UCLA, meeting Buddhism in Nepal wasn't such a stretch for me. I did the 2nd and 4th courses at Kopan (around 1973). After one of those courses, someone showed me a photo of Kalu Rinpoche and that was it! I then found a way to go to Sonada in Darjeeling and as I got off the train, someone named Long Ron came right up to me and asked: "Do you want to meet Kalu Rinpoche?" The next thing I knew I was in his room and he was my teacher.
Q: So photos really do convey a lot of information!
SH: Yes, it was one of those classic hair-standing-on-end moments. The journey was arduous and I went straight as the crow flies (which you are not supposed to do) and from then on, I was in trouble with the Indian government. The monastery is in a restricted area—I took a Nepal airline flight into the middle of nowhere and at the border, the officials said I couldn't go in. I started crying and they said: "Oh, you are a lady, we will let you go in." Somehow from the moment I saw the photo, I knew I was going to meet my guru. It was a strange situation with Kalu Rinpoche because he looked so different, like an alien and yet so totally familiar. I never had a doubt about him being my teacher. I was lucky—I didn't have to examine his qualities…I just knew he was the one to help me. I began doing the practices of the Shangpa lineage.
Q: When did you decide to do an extensive retreat?
SH: In 1974, a short time after I met Kalu Rinpoche, he asked me to help bring him to the USA. On that trip, he had the idea to offer a three-year retreat for westerners. I still remember clearly, it was at my father's house in Los Angeles where he announced it. I knew immediately that I wanted to do it, but at first, he thought I was too inexperienced. It took a lot of persuading, but he finally agreed to allow me to be in the first retreat that would begin in 1976 and end in 1980. I began preparing by learning Tibetan and doing ngondro and other preparatory activities. I lived in a couple of other places before the retreat—Vancouver and also Seattle where I studied with the Sakya teacher Deshung Rinpoche, my second most favorite lama. Kalu Rinpoche would tell us that when he was away we should turn to Deshung Rinpoche. Many of Kalu Rinpoche's students studied with Deshung Rinpoche. He regarded Kalu Rinpoche as his second root guru.
Q: Please tell me about the retreat. Was it a solitary or group retreat?
SH: It was a group retreat based on the Jamgon Kongtrul model that was developed at Palpung Monastery in Kham. We were in France at Kagyu Ling. There were seven women in one retreat place called Nigu Ling, and seven men in another place called Naro Ling. Lama Tenpa was our retreat master and there was a cook.
Q: When you first met Kalu Rinpoche, you had not been studying Tibetan had you?
SH: No I hadn't been, but he had me studying the very next day! He gave me one of his lamas to begin teaching me Tibetan and in that first day I learned the alphabet and how to spell my name in Tibetan. Kalu Rinpoche felt it was important for people to learn Tibetan because it would lead to a deeper understanding of the dharma. That is why there are so many of his students that know Tibetan.
Q: Did he have a translator around him at that time?
SH: Yes, he had good translators at the time. It was a big inspiration for me to want to learn Tibetan so that I would be able to understand Kalu Rinpoche—that was my only motivation; I never planned to become a translator. I just wanted to understand him. Even with a good translator, it was unacceptable to me to have a mediator.
Q: Yes, I would think that it would be that way for you. It seems that you wouldn't want anything between you and the source, be it Tibetans or Tibetan texts.
SH: Exactly, I feel that very strongly. On the other hand, I used to have profound moments with Kalu Rinpoche before we could speak with each other. There was no one around and we would be together in silence. Once I could speak, my discursive mind could not let that silence just be—I had many questions, and now I feel I might have been missing out on the real thing that was going on.
Q: Still, you experienced his depth. You really wanted to understand the dharma and wanted to study the texts in the original and come to your own conclusions without intermediaries.
SH: Every time I bump up against a dharma scene where there are various restrictions, I am so glad that I can go directly to the source and no one is blocking me. It skips a lot of bullshit.
Q: In a tradition where there are many rules that can prevent access by women because they are treated secondarily, I imagine that women have had a harder time accessing the teachings. They weren't trained in philosophic Tibetan.
SH: I think that it is true that women did not receive the same training except in rare circumstances where by birth they were like royalty.
Q: You mean special cases like Jetsun Kushog who is Sakya Trizin's sister, or Khandro Rinpoche who is Mindroling Rinpoche's daughter?
SH: Yes, like that. From what I have seen in nunneries in Bhutan, the nuns don't get the good teachers or training. There is not a huge bias, it is just that they are overlooked as far as training goes. And they very much want that training. I suspect it was like that in Tibet from everything I have read and heard.
Q: What have you translated so far?
SH: I have done several books, not all by women by any means, but I am interested in women who bucked the system and have displayed their own agency. However, it is hard to find the actual historical women, because of the cultural overlays on the great women such as Machik and Niguma. In the case of Niguma, it is really difficult to find out about the person. Niguma did not have pen in hand to create the texts ascribed to her. Her disciple Khyungpo Naljor wrote everything down—it is not clear that he ever met her as a real person. It makes one wonder if she is a real person or just the imaginative mystical creation of a yogi. The text Stages of Illusion is attributed to her. It is a lengthy treatise, much more than just a few vajra lines. I like to think that the source of that teaching came from Niguma, but I can't prove it. Everything attributed to Niguma was recorded by Khyungpo Naljor. Back in the 10th and 11th centuries the sources of other lineages such as Virupa didn't write their teachings down either. In the case of Niguma, where Khyungpo Naljor is having mystical experiences of dakinis, it is hard to know if the dakini is a person or the yogi's pin-up girl.
I have always been proud that the Shangpa lineage was founded by Niguma and Sukhasiddhi, but the question remains: Are they the actual women or the names for the inspiration of Khyungpo Naljor? We think that the presence in Tibetan culture of inspirational beings called dakinis somehow indicates that women are highly respected, but that is wishful thinking. Jose Cabezon has said: "Like the Trojan horse, beware of the patriarchy bearing symbols of the feminine." I have spent some time investigating whether Machik and Niguma were the consorts of great men—revealing a cultural attitude that these women could not be great by themselves but only by association with men. In both cases there is no evidence that Machik was the consort of Dampa Sangye, as many Tibetans think, nor evidence that Niguma was Naropa's consort. Our cultures seem to need to believe that powerful women became so because of powerful men.
Q: Because the Shangpa lineage had Niguma as a founder, do you think that there is greater respect in that lineage for women of wisdom?
SH: I do think it has had an effect. Once a woman is recognized as a dakini, there is no longer any question of respect for that person. Kalu Rinpoche was open to women practitioners receiving equal training. When plans for the three year retreats came up, I know that some of Rinpoche's associate lamas were skeptical about the prospect of having a women's retreat, but he did it anyway. He had confidence that the women were equally capable. But he also had limits. For instance calling women "lama" as a recognition for completing the three year retreat was difficult for him, but he didn't have a problem calling the men "lama." For him, it was like calling a woman "Mr." All of us were considered capable of teaching after the retreat; he just didn't want to call women "lama."
Q: Chagdud Tulku impressed me because of the good training he gave to several students, including his wife and Lama Tsering Everest. He recognized them as capable teachers; they are now continuing his work after his death.
SH: Chagdud Tulku was very important for me having any confidence at all. I translated his written work and his oral teachings for a number of years—he had no issue about women at all. I would say he had more confidence in women than he did in men. He certainly had more confidence in me than I had in myself.
Q: We need our teachers to see our potential for growth and to relate to that.
SH: Women often have confidence issues, so for him to display confidence was huge for me. I was cleaning houses for a living, and when he heard that I had done the retreat, he was completely outraged and said "What are you doing!" He would always make sure I was paid for dharma work. Every interview I translated, he would give me half of the donation.
Q: How is the Shangpa lineage different from others?
SH: It stands out as a different lineage. According to Jamgon Kongtrul, the eight "practice" lineages derived directly from India. In the case of the Shangpa, Khyungpo Naljor received teachings from approximately 140 masters in India, and among them were Niguma and Sukhasiddhi. The Marpa Kagyu lineage received teachings from the Indians Maitripa and Naropa. The Tibetan lineages are traced to one person, usually, who received teachings from outside Tibet. Each lineage has different teaching emphases. For example, the yogas of Niguma are more straight-forward and simple than those of Naropa. In Shangpa, you are encouraged to visualize your root guru instead of Vajradhara. This indicates that the devotional aspect may be emphasized differently. Niguma's "Stages of Illusion" understands the bodhisattva grounds and five paths as illusion. In my mind this seems particularly feminine. Niguma was a person who was hard to find—illusory in that sense. That ephemeral quality is the very definition of dakini. It was important to her that we don't take everything so literally, solidly. Most of the teachings on the paths and grounds are incredibly fixed and detailed as to what happens at each stage.
Q: It is a little too structured when you consider how life actually is, how it moves.
SH: Exactly. Niguma is saying, if you don't understand it as illusion you are missing it. How do you approach this complex path to enlightenment from the viewpoint of illusion? I don't know how present that view is in the Shangpa lineage, but it works for me.
Q: I am reminded of the Diamond Sutra where the Buddha uses many similes of illusion. It seems that Niguma was keeping the Buddha's view alive in her teaching.
Q: Yes, for the Buddha, his Prajnaparamita teachings have been personified as the feminine. Niguma gave me a way to relate to the path literature.
More about Niguma, Lady of Illusion: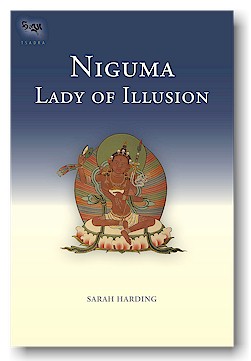 Providing a rare glimpse of feminine Buddhist history, Niguma, Lady of Illusion brings to the forefront the life and teachings of a mysterious eleventh-century Kashmiri woman who became the source of a major Tibetan Buddhist practice lineage. More than an historical presentation, Niguma's story challenges the view that images of accomplished female practitioners are merely symbolic representations of the "feminine principle." In some cases they portray real spiritual leaders. This volume includes the thirteen works that have been attributed to Niguma in the Tibetan Buddhist canon. These collected works form the basis of an ancient lineage, Shangpa, which continues to be actively studied and practiced today. These works include the source verses for such esoteric practices as the Six Yogas, the Great Seal, and the Chakrasamvara and Hevajra tantric practices that are widespread in Tibetan traditions. "Such an important historical female figure as Niguma has been obscured by centuries of overlaid mythology, but now Sarah Harding has skillfully managed to separate the wheat from the chaff and reveal something of the woman behind the legend, along with her place in the Shangpa tradition and her fascinating writings on Yoga."—Jetsunma Tenzin Palmo, author of Reflections on a Mountain Lake "Niguma is Niguma. A book is a book. If you read with discernment, however, and put what is written into practice, you just might meet Niguma face to face."—Yangsi Kalu Rinpoche "Sarah Harding's fascinating account of the literature surrounding Niguma, heiress of unimaginable qualities, provides a rare glimpse into the life of a legendary female practitioner who traces the source of her wisdom lineage directly to Vajradhara, the epitome of awakening. The collected works and biography are gems of insight into the spiritual journey of this elusive figure whose realization culminates in the perfection of timeless awareness and an illusory rainbow body.
"Deftly written, the account is a treasure trove of information about tantric practices and attainments, focused especially on the nature and power of illusion. Harding's attempts to separate the flesh-and-blood woman from the idealized dakini makes for an engaging, often amusing read for neophytes and experienced practitioners alike. Of special relevance to those who happen to be women this time around."
~ Karma Lekshe Tsomo, editor of Buddhism through American Women's Eyes
"The elusive "Lady of Illusion" Niguma was the eleventh century female founder of the tantric practice lineage that forms the central core of the Shangpa Kargyu tradition. For many years those of us interested in Niguma's teachings have been waiting for this book. Now, thanks to the masterful translation work of Sarah Harding, we have it. And though we still may not know the specific details of Niguma's life, what we are given here—through these personal, detailed and distinctive practice instructions—is the unmistaken reason for her enduring legacy. Kudos to Sarah Harding for making this unique treasure-trove available."
~ Jan Willis, author of Dreaming Me
Source:  An Interview with Sarah Harding
Khandro Thrinlay Chodron
Khandro Thrinlay Chodron
Khandro Thrinlay Chodon has, all her life, quietly and diligently practiced the Buddhist teachings in her precious family lineage.  Her great grandfather was the great Drukpa yogi, Drubwang Shakya Shri.  Her father was Kyabje Apho Rinpoche and her mother, Sangyum Urgyen Chodon, was also an accomplished yogini, who first sowed the seed for her daughter's enduring passion for the spiritual teaching and practice in daily life.
She was trained as a child with the late Yogi Gegen Khyentse, a master of the Six Yogas of Naropa and Mahamudra, from whom she received all the empowerments and transmissions of the Drukpa lineage. She also studied with the late Dilgo Khyentse Rinpoche and has practiced in solitary retreat under the guidance of the late Kyabje Sengdrak Rinpoche.
In her early adult life, Khandro-la's spiritual master, Gegen Khyentse, recognized Khandro-la's capacity to manifest dharma activities and gave the name Khachodling to her vision.   Khandro Thrinlay Chodon married His Holiness the Ninth Shabdrung Ngawang Jigme Rinpoche.  'Khandro' is a title received through marriage to Shabdrung Rinpoche and means 'Dakini' in Sanskrit. This title refers to the wisdom quality within the feminine essence.  Shabdrung Rinpoche passed away in 2003, and since that time, Khandro Thrinlay Chodon has been devoting herself to her vision of establishing Khachodling.  This has become her life's work of spiritual training and activity. It has manifested in a series of projects that are united by a strong spiritual purpose.
"The word 'Khachodling' holds a deep spiritual meaning for me. Simply stated it is the place where the heart essence of wisdom, known as the feminine principle in Buddhism, is nourished and respected. Compassionate Action flows unceasingly from this source. Literally translated from the Tibetan, this is a 'land of the blissful dakinis'.
Khachodling, this vision – my life's work, is an offering to the wisdom of my great masters. It is a goal-less journey.
I am not quite sure from where it came and where it is leading. But I do know that, myself and Khachodling have always been blessed by my precious masters, and these blessings will always continue."
~ Khandro-la
Myoshin Kelley
Myoshin Kelley
"So much of my inspiration and joy comes from bearing witness to the unfolding of the dharma in myself and others. My teaching is most engaging when I'm involved in an on-going relationship with students and having the opportunity, and honor, to see what's happening in their lives. We may begin our practice on our cushions; and yet, as we learn to bring practice to all corners of our lives, we get a glimmer of the true possibility of liberation."
~ Myoshin Kelley
Myoshin Kelley is one of the directors of Mingyur Rinpoche's Tergar International and facilitates Joy of Living meditation courses and teacher trainings around the world.  All that encounter Myoshin in her teachings, work, and dharma community come to know the warmth, simplicity and candor of her compassionate, mindful presence.
"Myoshin Kelley attended her first meditation retreat in 1975 at the age of 20. Through the ensuing years she has received dharma instructions from several renowned Buddhist meditation masters in the Theravada, Zen and Vajrayana traditions. She has practiced extensively with the Burmese meditation masters Chanmyay Sayadaw, Sayadaw U Pandita, and Sayadaw U Tejaniya. In the early 1990s Myoshin received meditation instruction from the Soto Zen master Hogen Yamahata. Her desire for long-term  meditation practice has taken her to Burma on several occasions.
In 1994 she accompanied her husband, Edwin, to the Insight Meditation Society (IMS) in Barre, MA, where she was trained as a meditation instructor by Joseph Goldstein and Sharon Salzburg. Since then she has been teaching meditation in a number of places throughout North America. In 2003 she was appointed the teacher in residence at the Forest Refuge, the long-term practice center at IMS.
Myoshin was introduced to Vajrayana teachings in 1993 and met Mingyur Rinpoche in 1998 when he first visited the US with his brother Tsoknyi Rinpoche. Since then she has practiced with Mingyur Rinpoche in North America and Asia benefiting from his skillful, lucid instructions on the profound teachings of Mahamudra.
Sources:  Dharma Seed and Tergar Learning Community
Michaela Haas
Michaela Haas
Michaela Haas is the author of Dakini Power: Twelve Extraordinary Women Shaping the Transmission of Tibetan Buddhism in the West, and the forthcoming book Bouncing Forward about resilience and post-traumatic growth. An international reporter, lecturer, and consultant,, she is the owner of HAAS live!, an international coaching company which combines her experience in media with mindfulness training. With a PhD in Asian Studies, she has taught at the University of California Santa Barbara and the University of the West as a visiting scholar in Religious Studies. She has been studying and practicing Buddhism for almost twenty years.
On '
Dakini Power

': Interviews with Michaela Haas

Dakini Power Interview: Shambhala Sun, August 2013

What makes Dakini Power unique?

It's the first book to feature the life stories of the most accomplished contemporary female Tibetan Buddhist teachers who bring new insights into Buddhism in the West: Pema Chödron, Khandro Rinpoche, Thubten Chödron, Lama Tsultrim Allione, Roshi Joan Halifax, and many more. That women participate fully could be the single biggest change with Buddhism coming to the West. I was particularly interested in how they personally dealt with challenging situations on the path, such as loss, divorce, and illness. So we talked not only about meditation and compassion, but also about power and abuse, sexuality and seduction, devotion and rebellion. Their accomplishments and challenges mirror the enormous changes we see Buddhism undergo in the West.

What prompted you to write the book?

After studying Buddhism for some years I realized that I never met any female masters. Whether at the university or in more traditional circles, the teachers always happened to be men. So, where were the women? I became curious and sought them out. Of course they existed, but they just weren't as much in the limelight. I was even more surprised when I couldn't find a book that features the most influential women of the Tibetan Buddhist tradition in the West. Traditionally, dakinis don't teach so much through words, but very much through their being and their way of life. So it seemed very fitting to focus on the female masters' lives, how they dealt with challenges, what motivated them to move forward. I find the examples of these courageous women extremely inspiring.

What did it do for you and your practice?

After my initial honeymoon period with Buddhism had waned, I had some serious questions about how this age-old tradition would fit with my modern upbringing and my academic research, so it was immensely valuable for me to ask some of the women how this was working out for them. Most of all, I learned that you never give up. These women followed their calling against all odds, sometimes despite life-threatening challenges. That is inspiring!

Whose story surprised you? Or, whose story taught you something new?

Honestly, every single one of them. Take Elizabeth Mattis-Namgyel, for example. There she was, the daughter of a rambunctious Marxist record label manager in Santa Monica, California, falling in love with a very traditional Tibetan Lama who had just disrobed. Or Chagdud Khandro – how did this Texan woman go from working as a tough journalist in New York to becoming a spiritual master in Brazil? Or Thubten Chödron – she used to be Cherry Green, a good Jewish girl in California, now she's the abbess of a traditional Tibetan monastery in Washington State. That's a clash of cultures! But in a bigger way, this flexibility test is not only what happens with the individuals, but with Buddhism coming to the West. What do we learn from each other? Both cultures have to explore what is essential to their survival, where they get bent out of shape if they change, and where they have to be flexible and adapt in order for the two cultures to communicate, so that it becomes a beautiful dance.

You refer to how all of the teachers you look at in the book were considered both "too feminist or not feminist enough." Would you say a bit about this tension? Who's doing the evaluating in these situations? What's your take on feminism and spiritual leadership in this context?

Ultimately, the real spiritual path leads beyond any divisions of culture, gender, or geography, but in the meantime, both Asians and Westerners have their own sets of prejudices and deeply ingrained beliefs about hierarchy and fairness. Some of the women featured in Dakini Power don't see this tradition as patriarchal at all. Others are more feminist and outspoken. As teachers they all play with the various expectations that come their way and sometimes they break the mold quite purposefully. I feel that there are many paths for women to choose in this tradition. There was an audible gasp in the audience when Venerable Karma Lekshe Tsomo visited my class at the University of the West and one student asked this eloquent nun if she was a feminist. Karma Lekshe Tsomo replied confidently without hesitation: "Yes, of course!" Some people think feminism has no place in Buddhism, because they associate it with something aggressive, but Karma Lekshe Tsomo defines feminism as believing that women are fully human, and that the continued discrimination is a human rights issue. Even the Dalai Lama says he's a feminist. If gender plays no role, then why are nuns still ranked among the group with the worst health and education? Don't Buddhists have a responsibility to include everyone equally?

Would you say a bit about the role of women practitioners in the academic study of Buddhism here in the West, and their contributions? I notice the book doesn't include figures like, say, Jan Willis, Rita Gross, Judith Simmer-Brown, Miranda Shaw, Janet Gyatso, and yourself, for example.

I wish I could include them all. Though my book profiles teachers like Venerable Karma Lekshe Tsomo, who is a professor at the University of San Diego, my focus was not primarily on the academic achievements of female scholars. Dakini Power does include poignant statements by Rita Gross who gave me a wonderful interview, and quotes from Judith Simmer-Brown's invaluable book Dakini's Warm Breath. Their work and the other female scholars you mention have been groundbreaking and are must-reads for anybody interested in Buddhist women.
Interview by Danny Fisher for Shambhala SunSpace, August 2013.
Dakini Power Interview: Dakini Power Website
Q:
What is a dakini?
A: In short, a dakini is a female messenger of wisdom. Tibetan Buddhists have a unique definition of the dakini as a role model of female enlightenment. The dakinis are depicted as strong and fiercely independent. The Tibetan word for dakini, khandro, literally means 'sky-goer', and it hints at the expansiveness of their view. I find this very interesting. All the female masters I met are extremely compassionate, warm, and kind, with very soft and tender hearts. At the same time, they also seem to have backbones of steel.
Q: Why did you decide to write the book?
A: After studying Buddhism for some years I realized that I never met any female masters. Whether at the university or in more traditional circles, the teachers always happened to be men. So, where were the women? I became curious and sought them out. Of course they existed, but they just weren't as much in the limelight. I was even more surprised when I couldn't find a book that features the most accomplished women of the Tibetan Buddhist tradition in the West. Traditionally, dakinis don't teach so much through words, but very much through their being and their way of life. So it seemed fitting to focus on the female masters' lives, how they dealt with challenges, what motivated them to move forward. I find the examples of these courageous women extremely inspiring.
Q: What do you find inspiring about their life stories?
A: So many people dream of finding more meaning in their lives, but very few actually get around to doing something about it. The women in the book are different. Take Elizabeth Mattis-Namgyel, for example. There she was, the young daughter of a rambunctious Marxist record label manager in Santa Monica, California, falling in love with a very traditional Tibetan Lama who had just disrobed. Or Chagdud Khandro – how did this Texan woman get from working as a tough journalist in New York to becoming a spiritual master in Brazil? Or Thubten Chödron – she used to be Cherry Greene, a good Jewish girl in California, now she's the abbess of a traditional Tibetan monastery in Washington State. Now, that's a clash of cultures! But in a bigger way, this is what happens with Buddhism coming to the West. Both cultures have to explore what is essential to their survival, where they get bent out of shape if they change, and where they have to be flexible and adapt in order for the two cultures to communicate, so that it becomes a beautiful dance. But it is also a flexibility test for everybody involved, no doubt.
Q: Did you find any differences with male teachers?
A: Traditionally, male teachers are recognized as toddlers, being put on a throne and educated in a very challenging monastic training. This is wonderful, but certainly very far removed from Westerners' experience of life. Many of the women in the book had an upbringing in the midst of life, and so their experience of life is much closer to my own. In this way, I can relate to them much more and I experience them as role models. Dagmola Sakya had to raise five kids and manage the whole household while having a 9-to-5-job at a blood bank. This is a struggle modern women can relate to. If you ask her a question about how to practice while keeping a challenging job, she does not need to put herself in your shoes—she's actually been there. That women take their seats as equals is probably the single most important change of Buddhism coming to the West.
Q: How did you choose the subjects for the book?
A: Every woman illustrates at least one crucial aspect of Buddhism in the West. Pema Chödron, for instance, is simply the most successful female Buddhist teacher in the West, and her books are groundbreaking; Khandro Rinpoche has a unique status as a young female master and incarnation; Jetsunma Tenzin Palmo is such a heartwarming example of an English woman sitting in a cave in the Himalayas for 12 years with unwavering determination; Lama Tsultrim Allione is the author of a milestone research on female mystics. If any of them weren't included, I'm sure everybody would ask—why didn't you talk to them? But there are many more that I could have included. For instance, Dagmola Sakya and Jetsun Kusho Luding have very similar life stories—they both were born in pre-Communist Tibet, both have five sons, both had to earn a living working blue collar jobs in America. I could have included either one of them, but felt their biographies were too similar to include them both. In this case, the choice was personal: I have an ongoing student-teacher relationship with Dagmola, she calls me her "Dharma daughter", and I felt that in order to justify publishing their biographies, I had to get "close" enough to the teachers to tell the readers something new or more personal, something they won't find on the internet.
Q: How did you meet Buddhism?
A: Buddhists say that some meet the teachings out of suffering, some meet it out of happiness. I had a great staff position as a reporter at Germany's most renowned daily newspaper, the German equivalent of the New York Times. At the same time, I had my own TV show, a popular 90-minute live talk show—and all this at the age of 23. I was driving around Munich in my beloved sky blue Old-timer Mercedes convertible, which I called Cloud Nine—I had it all. Yet I wasn't happy. There was a nagging dissatisfaction, but there was nothing else I could have wished for. Everything was perfect, yet I was depressed. So I knew I had to look on an entirely different level. Then I took a trip to Bhutan—not because I knew anything about Tibetan Buddhism, but because it was exotic. The trip was mind-blowing; I connected with the culture at a very deep level. I kind of spent the whole two weeks in an altered state of mind. When I came back, I sought out a Tibetan Buddhist teacher and within six months, I left both my jobs in TV and the paper. Since then, I have continued to work as a reporter, but my whole focus shifted. For a while I became a full-time Buddhist, studied in India and Nepal for some years and eventually did a Ph.D. in Asian studies.
Q: In your book you raise some controversial issues about sexism and sexuality.
A: I think it is crucial not to gloss over the issues. Himalayan societies are highly hierarchical; I experienced some traditional teachers as quite patriarchal and dogmatic. I come from a culture where I am used to discussing issues very openly and directly, even bluntly. This is the opposite of the face-saving tiptoeing in the Asian culture, so I admired that the women were willing to discuss things very openly, non-dogmatically. With Buddhism coming to the West, the traditional teachers are opening up more and their communities are slowly becoming more democratic, but it is still a process.
Q: Why did you decide to make it a very personal book?
A: Well, both as a journalist and as a scholar, I am trained to highly value "objectivity." But we all know that it is impossible to be objective, and I think in the end it is more honest to just be open about that. It is easy to forget how utterly exotic and different these life stories sound for non-Buddhists. My non-Buddhist friends and colleagues wanted me to translate for them, to be the catalyst. Since this book is meant to be an inspiration for Buddhists and non-Buddhists alike, I decided to try to make it as easily accessible as possible and I followed my publisher's encouragement to make it personal. My main objection about this approach was that people might feel I put myself on the same level with the women I write about which is laughable. So, I try to make it utterly clear that the book is my humble homage to these remarkable and inspiring teachers. As my publisher said, one way to be egoless is just to put yourself out there.
Q: What did you learn from the interviews?
A: So much! Too much to list. You have the whole spectrum: Women who decided to become ordained, mothers and scholars, wives and hermits, but they all decided to focus on their spiritual realization, so there is something to learn from every single one of them. After my initial honeymoon period with Buddhism had waned, I had some serious questions about how this age-old tradition would fit with my modern upbringing, so it was immensely valuable for me to ask some of the women how this was working out for them. Some of them are very traditional and say, what are you talking about? No, this tradition is not patriarchal at all. Others are very feminist and outspoken. I feel that there are many paths for women to choose in this tradition. Most of all, I learned that you never give up. You just do what you're meant to do. That is inspiring!
Q: What are you working on next?
I am working on a book about the gift of pain—what we can learn from emotionally and physically painful situations and experiences. For the book, I am interviewing people who emerged from challenging situations stronger, more compassionate and wiser. I want to know: Why is it that the same situation breaks some people, while others seem to survive with a renewed purpose and meaning in life? I have also just written a docudrama about the Tibetan resistance—but with China financing a lot of movie productions these days, this is going to be a hard sell if we don't find independent financing.
On '
Dakini Power'

: Reflections

"I am heartened to read the accounts in this book of the achievements of women teachers from different schools of Buddhism: it is a celebration of the contribution which female practitioners have made throughout history, and which they are continuing to make… My heartfelt prayer is that women such as these are the trailblazers; their efforts will lead to a fresh recognition of the unique insights and qualities of female spirituality, and wider acknowledgment of women practitioners and teachers."
~ From the foreword by His Holiness the Seventeenth Karmapa Ogyen Trinley Dorje

"The twelve women profiled in Michaela Haas' book form a circle that radiates in countless ways. Taken as a whole, their lives document both the continuing emergence of Tibetan Buddhism in the West and the concurrent work towards women's inclusion in arenas of practice and leadership where they have historically been marginalized and excluded. Dakini Power is an inspiring contribution to the ongoing conversation."
~ Sharon Salzberg, author of Loving Kindness and Real Happiness

"What a moving and powerful book! With passion and verve, these remarkable women bear witness to the fact that the buddhadharma has put down firm roots in the West. Michaela Haas has done a superb job of presenting their struggles and their realization in a way that makes them an inspiration to men and women alike."
~ B. Alan Wallace, author of Boundless Heart and Choosing Reality

"Apart from a few rare hagiographies of ancient Tibetan yoginis, there is a dearth of information about accomplished Buddhist women practitioners. Michaela Haas' Dakini Power addresses this historical oversight by profiling the lives of twelve dynamic contemporary female pioneers – from Tibet and the West – who, in spite of few role models, have overcome challenging gender-based situations, become internationally respected teachers, and set new standards for actualizing compassion in the 21st century. Beautifully written, pertinent to the times, Dakini Power is a study in courage and perseverance and a much-needed contribution to modern Buddhist literature."
~ Mikel Dunham, author of Buddha's Warriors and Caught in Nepal.

Image:  Dagmola Sakya and Michaela Haas in Malibu by Amy Gaskin.
Heidi Köppl
Heidi Köppl
Heidi Köppl has worked as a translator at the Ka-Nying Shedrub Ling Monastery in Nepal and its affiliated centers worldwide since the 1990's. She has been a faculty member at the Kathmandu University Centre for Buddhist Studies since 2001 and she is currently preparing a doctoral dissertation on Buddhist Tantra. Heidi serves as the editor-in-chief at the Triple Excellence contemplative program developed by Chökyi Nyima Rinpoche and Dharmachakra Practices.
She is the author of Establishing Appearances as Divine: Rongzom Chözang on Reasoning, Madhyamaka, and Purity and the translator of Uniting Wisdom and Compassion: Illuminating the Thirty-Seven Practices of a Bodhisattva by Chökyi Drakpa, with introduction by Chökyi Nyima Rinpoche.
Photo:  Heidi Köppl translating for Chökyi Nyima Rinpoche.
Dechen Yeshe Wangmo
Lama Dechen Yeshe Wangmo
Lama Dechen Yeshe Wangmo has thirty-seven years experience studying, practicing, translating, and teaching Vajrayana and Tibetan Buddhism.
Born in Montreal, Canada, her Buddhist path began with meeting the 16th Karmapa in 1977 and soon completing a three-year retreat in New York State under the direction of Kalu Rinpoche. In 1992, she was enthrones as a lama in the Dudjom Nyingma lineage by Repkong Tsedrup Tharchin Rinpoche.
She was an original member of Kalu Rinpoche's International Translation Group formed in 1986. More recently, togther with colleagues, she led the translation of the 550 pages of Dudjom Rinpoche's volume 16, his mind treasure, Dakini Heart Essence.
In 2002, she founded Jnanasukha to bring awareness to the feminine principle of sacred openness—the source of everything which is praised as the wisdom of the female buddhas. In 2010, she established The Tsogyal Latso Fund and The Pearl Mala global community to care for Tsogyal Latso, the birthplace of Khandro Yeshe Tsogyal in central Tibet and the nuns living there. When circumstances allow, she leads pilgrimages to the historical sites of Yeshe Tsogyal and the Nyingma lineage in Tibet.
A twenty-eight year resident of Hawaii, Lama divides her time between online activities, on-site programs, translation, research, fundraising for Tsogyal Latso in Tibet, and personal retreat.
Source:  Jnanasukha
Lama Lena
Lama Lena
Lama Lena (Yeshe Kaytup)

Beginning in 1972, Lama Lena spent three years studying with Lama Thubten Yeshe at his monastery in Nepal and seven years in retreat and practice in a small cave above TsoPema under the tutelage of her root teacher, Ven.Wangdor Rinpoche.
For the past 25 years she has traveled extensive with Wangdor Rinpoche as his translator and assistant. Lama Lena has also studied Chinese medicine and had a private practice in the San Francisco Bay Area. In 2005 she returned to Tso Pema to assist Wangdor Rinpoche.
She currently lives on the mountain above Lotus Lake with her two khandros. When she is not traveling, teaching or translating, she works providing medical assistance to the Tibetan refugee community as well as the local Indian villagers and mountain tribespeople.
At the request of H.E. Zigar Choktrul Rinpoche and Ven.Wangdor Rinpoche – as well as many Western and Tibetan dharma students – she has been traveling and teaching from the lineages she holds.